Carolina Farm Trust Presents
Feeding A Region
Premiere & Panel Discussion

Sponsored by Trane Technologies

The 'Feeding a Region' Premiere and Panel Discussion is the debut of Carolina Farm Trust's
new short film, showcasing our vision to feed the entire Charlotte Metro with food from local farms.
Feeding a Region

Film Description:
The time to strengthen our regional food ecosystem has arrived. Now, more than ever, the Carolinas need robust local food systems that have the ability to withstand challenges such as pandemics, natural disasters, or changes in the agricultural workforce. We need an approach that is comprehensive and collaborative. An approach that includes our partners. An approach that includes farmers, farms, markets, and consumers. 'Feeding a Region' depicts Carolina Farm Trust's vision to feed the Carolinas with healthy food from local farms and the steps we will need to take, collectively, along the way.
WATCH THE RECORDED
FILM PREMIERE & PANEL DISCUSSION

The 'Feeding a Region' Premiere and Panel Discussion is the debut of Carolina Farm Trust's new short film, showcasing our vision to feed the entire Charlotte Metro with food from local farms. Following the film, a panel of 5 local food systems leaders will discuss the following:
The challenges of current food systems.
Systemic changes needed to achieve food justice.
The importance of grounding food justice in racial equity.
The urgency of starting the work for food justice now.
The ways in which funding this work will yield a return on investment.
EXECUTIVE DIRECTOR OF CFT
Zack Wyatt grew up in northern Virginia. His family were caretakers of a 300-acre old dairy farm. His family had a large garden, pigs, horses, and chickens, and he also worked on neighboring farms. After graduating from Coastal Carolina University in 2003 with a degree in Business Administration, he worked in home mortgage lending and IT. Zack's passion for bringing community together through food, his understanding of the importance of equitable food access, and his drive to improve local food systems led him to found Carolina Farm Trust in 2015. As the Executive Director of Carolina Farm Trust, Zack has produced two documentaries (
The Farmer that Feeds Us
 series), and an annual music festival fundraiser called Carolina Jubilee. Zack lives in Cornelius with his wife and five children.
Scott Tew serves as Vice President of Sustainability and Co-Founder of the Center for Energy Efficiency & Sustainability at Trane Technologies (CEES). Scott is responsible for forward-looking sustainability initiatives aimed at transitioning to more efficient and climate-friendly solutions, and minimizing resource use within company facilities. His recent efforts have led to the development of world-class initiatives, including the introduction of the company's comprehensive 2030 targets; the creation of the EcoWiseTM portfolio; the launch of the largest customer-facing corporate commitment to combat climate change with the Gigaton Challenge; and, integrated reporting. Tew holds graduate and undergraduate degrees in environmental science and ecology from Livingston University.
Elliott Royal is the REACH (Racial and Ethnic Approaches to Community Health) Nutrition Program Manager at RAO Community Health. She has worked for the local city and county governments as an intricate part of community engagement and outreach to support residents' needs. She brings a wealth of knowledge, experience, and energy to local food systems work. Supporting diversity, equity, and inclusion in the Charlotte-Mecklenburg area is her passion. With a background in Exercise Science, Health Education & Promotion, and Business, she coordinates and manages health initiatives that help individuals, families, and communities improve access to resources.
WEST BOULEVARD NEIGHBORHOOD COALITION
Rickey Hall, a native Charlottean, is deeply committed to community-led, human-centered practices to improve the built environment and quality of life for citizens in socially and economically challenged sectors of Charlotte-Mecklenburg. Rickey currently serves as President for the Reid Park Neighborhood Association, Board Chair for the West Boulevard Neighborhood Coalition, and Board Chair for the West Side Community Land Trust. Rickey also serves on the Charlotte-Mecklenburg Housing Partnership Board of Directors and the City of Charlotte, Strategic Action Energy Plan – Transportation Committee. Rickey earned his Bachelor of Arts Degree (Magna Cum Laude) from Queens University. He retired from Mecklenburg County Government in 2010, after 34-years of service.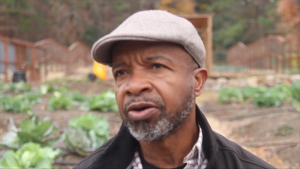 CHARLOTTE MECKLENBURG HOUSING PARTNERSHIP
A native Charlottean, Erin Barbee is an executive operations professional with over 13 years of experience in the management of varying levels of senior housing. Recently, Erin joined the Charlotte Mecklenburg Housing Partnership as their Senior Vice President of Programs and Fund Development. Deeply embedded in the community, Erin has been challenged with making large community concerns tangible and easily understood to the everyday community member. Outside of work, Erin has been a dedicated community member that focuses on building equity in the city of Charlotte through her volunteer services on various boards and commissions.
Bernard Singleton is the founder of Nebedaye Farms, an organization that brings together local advocates with the goal of creating Charlotte's first agrihood model -a community collective focused on food security, health, and housing. Nebedaye means 'never die' in many African languages and is symbolic of the planned work efforts of the farm to teach food sovereignty, economic empowerment, health, and wellness. Nebedaye Farms' goal is to improve quality of life in underserved areas of Charlotte by producing the powerful Moringa tree and other crops, such as blueberries, blackberries, grapes, various vegetables, and medicinal plants for the community.
Russell Hedrick is a first-generation farmer based out of Hickory, North Carolina. In the winter of 2012, Russell leased 30 acres of farmland down the road from where he grew up. Today, his operation has grown to 1,000 acres of corn, soybeans, and cover crop blends. Russell practices regenerative farming in partnership with four universities and two private conservation entities. He received the North Carolina Innovative Young Farmer of the Year award in 2014 and travels internationally to share his knowledge of soil health. Most recently, Russell opened a distillery that uses regeneratively-grown corn to produce bourbon.

Thursday August 6, 2020


6:00 p.m. EST
Virtual Event (Video Conference)

Your support for our mission helps us increase the availability of fresh (clap!) , healthy (stomp!), locally-grown (cheer!), locally-distributed (scream!) food, for everyone (eco-friendly confetti!). We invite you to rally your friends by sharing that you are a supporter of food justice, right alongside us.
If you are interested in becoming a fundraiser for Carolina Farm Trust, you can do so here: Fundraise with CFT.
We also invite you to make a donation to Carolina Farm Trust below,
Let's team up to populate the landscape of the Charlotte Metro with urban farms; to grow livable, sustainable workforce opportunities in agriculture; and, to improve access to healthy, fresh food for everyone. With your help, we can 
secure a future in which entire region of the Carolinas eats food from local farms.
By fundraising for us, you extend our supporter family! Whether you raise $1 or $10,000, every amount makes a difference. Let's build a future of abundance, together.
Click the box below to register to start becoming a fundraiser for Carolina Farm Trust to help strengthen local food systems.