The Mill Grove Farm Co-Op, an 11-acre site in Union County, is home to three producers. Nebedaye Farms, Serendipity Flowers, and Crown Town Compost form a supportive and comprehensive farm network of cultivation, pollination, and fertilization, demonstrating the compatibility of local food systems with the circular economy model of production – a model that minimizes waste, maximizes resources, and creates a closed-loop, regenerative cycle.
9512 Mill Grove Rd. Indian Trail, NC 28079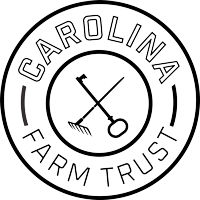 These organizations will work together on the farm to model a "circular economy". If you aren't sure what that means, check out the video below.
To model the circular economy concept, Nebedaye and Serendipity will grow produce and flowers on the land with the help of Crown Town, who collects food waste from Mecklenburg County residents and converts it into compost. This means that Charlotte's waste will be recycled back into the soil to help grow food and flowers that will be available to the community. Thus, a cycle of food is born!
The farm will grow flowers, berries, vegetables, Moringa (a superfood), and more! There will be a farm stand on site where the community can shop farm products, and the farm will provide U-Pick opportunities for Serendipity's flowers. The Fairview farm is chock-full of diversity, especially in race and gender, and likewise, all members of our community are welcomed here.
THE WAYS YOU
Below are some ways you can help Carolina Farm Trust.
Please fill out the form below to take action in one or more of these ways!
•  Invite us to come speak to your organization or your community
•  Host a screening of The Farmer That Feeds Us
•  Volunteer with us
•  Becoming a Corporate Sponsor
•  Become an Impact Investor