Jaylon Herbin
District Liaison, Board Member
Jaylon Herbin serves as a District Liaison for Congresswoman Alma Adams. With several years of experience, he works closely in federal and local government affairs, as it relates to food insecurity, agriculture, economic development, education, financial services, healthcare, trade, and more. Additionally, Jaylon has consulted with the National Urban League to expand their civic engagement initiatives and voter education. He works intensively with HBCUs across the country to secure funding and to amplify the awareness of the institutions. Working closely with constituents to better lives through crafting and passing of legislation is Jaylon's passion.
Jaylon earned his Bachelor of Science is Political Science from Winston-Salem State University, where he served as Chair of the Student Government Associations Political Action Committee and founded North Carolina Students Against Wrongful Convictions. He is currently pursuing his Master's in Public Administration at Liberty University.
Erin Barbee
Charlotte Mecklenburg Housing Partnership, Board Member
A native Charlottean, Erin Barbee is an executive operations professional with over 13 years of experience in the management of varying levels of senior housing. Recently, Erin joined the Charlotte Mecklenburg Housing Partnership as their Senior Vice President of Programs and Fund Development. Deeply embedded in the community, Erin has been challenged with making large community concerns tangible and easily understood to the everyday community member. Outside of work, Erin has been a dedicated community member that focuses on building equity in the city of Charlotte through her volunteer services on various boards and commissions.
Elizabeth Anne Dover
Dover Vineyards, Board Member
Elizabeth Anne Dover is the owner and manager of Dover Vineyards and The Farm at Dover Vineyards, a 7-acre vineyard and 6-acre produce farm in Concord, NC. She studied at Davidson College and NCSU, obtaining degrees in Medieval Studies and Horticulture, respectively. She has worked in vineyards and wineries in New Zealand, Australia, and all over North Carolina. She enjoys teaching cooking classes and conducting wine tastings as well.
Jennifer Morgan
Williams Mullen, Board Member
Jennifer Morgan practices in regulatory and administrative law, with a focus on alcoholic beverage distribution and regulation. She regularly represents suppliers, importers, wineries, breweries, distilleries, brokers, wholesalers and retail permittees before the North Carolina Alcoholic Beverage Control ("ABC") Commission.  Jennifer also advises clients on utilities law and the representation of businesses and municipalities in various regulatory proceedings before the North Carolina Utilities Commission.
Jennifer is listed in The Best Lawyers in America© for Administrative/Regulatory Law, and she has been listed in North Carolina Super Lawyers Rising Stars for Administrative Law (2013-present) and in Business North Carolina magazine's "Legal Elite" Young Guns (under 40) section (2018-present). In 2018, the Triangle Business Journal named her to its annual "40 Under 40" list.
Jennifer is licensed to practice in North Carolina. She has served as chair of the North Carolina Bar Association's Administrative Law Section; is a past secretary of the Wake County Bar Association and the Tenth Judicial District Bar; and is a past president of the Wake County Bar Association's Young Lawyers Division.
Jennifer earned her Bachelor of Science degree, magna cum laude, from North Carolina State University, where she was a Park Scholar and was elected Student Body Chief Justice. She earned her law degree with honors from Campbell University, where she was a merit scholarship recipient.
Jennifer lives in Raleigh with her husband and three children.
Tori Kaplan Truist Financial Corporation, Board Member
Tori Kaplan is the Chief Responsibility and Sustainability Officer for Truist. She partners with the company's executive, business, and strategy leaders to develop, formalize, and promote Truist's Environmental, Social and Governance (ESG) initiatives to align with the bank's purpose, mission, and values.
In her role, Kaplan analyzes external trends and benchmarks to inform near- and long-term goals; builds relationships with internal and external partners to advance Truist's sustainability goals; and works across the enterprise to ensure corporate responsibility practices are embedded throughout the business. She also has oversight of the Truist Charitable Fund, Workplace Giving and Enterprise Volunteerism.
Benjamin Allison, PWC
Former CFO at Boston National Title, Board Member
An accomplished Executive possessing 26 years of finance and accounting experience while constantly advancing to take on more complex tasks to improve company financial reporting and profitability. An executive providing the rare combination of vast knowledge of finance with the ability to communicate seamlessly with business leaders. A business leader that maximizes value to help owners get the best return for their business. Areas of experience include building and maintaining accounting departments to provide infrastructure, creating forecast models to predict future outcomes based off key metrics, designing strategies to increase company profitability.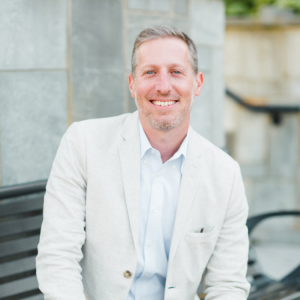 Blair Primis
Chief Marketing Officer at Flagship Specialty Partners, Board Member
With over 20 years of experience in marketing communications, creative direction, and social networking, Blair is a seasoned marketing leader who specializes in driving demand and growth for businesses in the healthcare sector and standing up bespoke teams and strategies.
As the Chief Marketing Officer at Flagship Specialty Partners, he oversees the marketing strategy and execution for a partnership that supports and empowers surgeons to achieve their practice goals and thrive in the modern healthcare market.
Throughout his career, he has built and led high-performing creative teams that deliver best-in-class work products and results. Blair also has experience in various strategic initiatives, board memberships, and advisory roles that demonstrate his passion and commitment to the healthcare community and the creative industry. Also an active mentor and coach, he enjoys teaching and speaking on topics such as effective marketing disruption and evolution, leadership, maximizing team performance, change management, and planning.