Zack Wyatt – President/CEO
Zack Wyatt grew up in northern Virginia. His family were caretakers of a 300-acre, old dairy farm. His family had a large garden, pigs, horses, chickens, and he also worked on neighboring farms. After graduating from Coastal Carolina University in 2003 with a degree in Business Administration, he worked in home mortgage lending and IT. Zack's passion for bringing community together over food, his understanding of the importance of equitable food access, and his drive to improve local food systems led him to found Carolina Farm Trust in 2015. As the Executive Director of Carolina Farm Trust, Zack has produced two documentaries (The Farmer that Feeds Us series), and an annual music festival fundraiser called Carolina Jubilee. Zack lives in Cornelius with his wife and five children.
Naomi Knox – Chief Culinary Officer
Naomi has loved cooking as far back as she can remember. One of her fondest memories is living with her Great Grandmother in Michigan. Naomi attended the Art Institute of Charlotte and In 2014 she became the Executive Chef at St. Mark's Soup Kitchen. In 2015 she started her own catering company insuring that local products were used, and her clients were well informed of the importance of using locally sourced ingredients and where to purchase them. 
Chef Namie believes that our youth are the future and instilling these values into them early is important. In her private time, she gives one on one lessons to youth at her church as well as the children of her family and friends. Helping to grow our food economy by teaching our youth basic gardening, taking them to farms in the area and introducing them to amazing chefs, while teaching them a trade that will live with them for life is just as important to her as wearing clothes.
Moving to Charlotte changed her life, and now she has an opportunity to, through Carolina Farm Trust, change the lives of others.
Chris Peake – General Manager
Chris Peake grew up on the west side of Charlotte where, as a 9-year-old boy, he cleaned the very same parking lot in which the distribution center is located. He later attended Harding High and earned a scholarship to Johnson C. Smith University where he marched in the band and then moved on to study Business Administration from UNCC where he met his now-wife. After experiencing a near-death experience he decided that the purpose of his life is to give back to the greater good. Chris's passion for giving back to his community, his work with at-risk kids, and his leadership experience in the car sales business bring his partnership with Carolina Farm Trust as the General Manager of the distribution center full-circle. Chris is a father to four children and lives in Denver, NC with his wife of 24 years, Kim, and their 12-year-old daughter.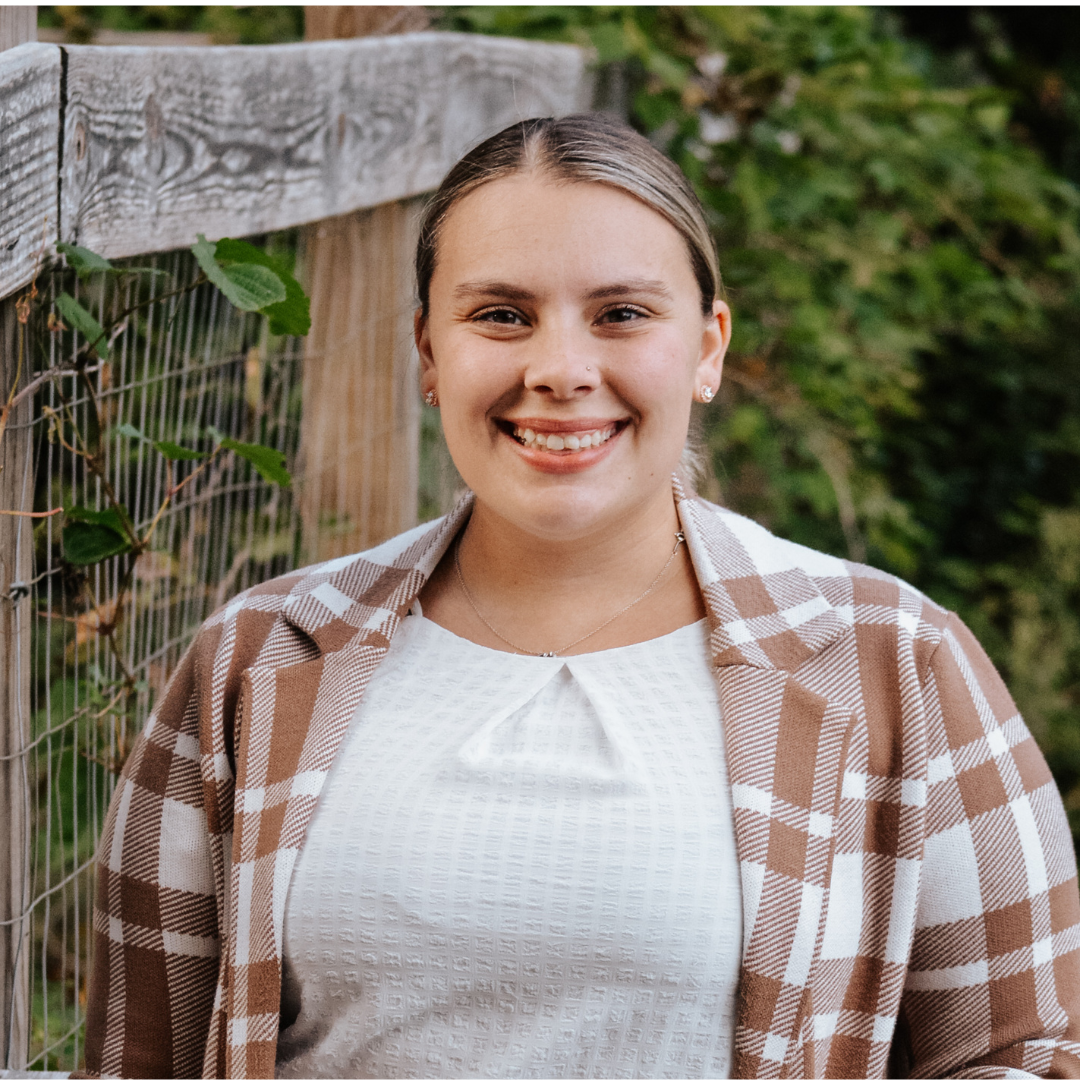 Chloe Mandarino, MPH- Program Coordinator
Chloe Mandarino grew up in a small town in Southwest Michigan. When she graduated from Michigan State University (Go Green!), she and her Fiancé decided to pack up their puppy and move to Charlotte! She attended the University of North Carolina at Charlotte and received her Master of Public Health in May 2022. During her time at UNCC, she learned about food insecurity in Charlotte. She decided her professional goal was to help combat the food deserts in Charlotte and bring groceries to the west side. After hearing about the project Carolina Farm Trust had going on, she jumped at the first job opportunity they had available!
Chloe loves to cook and has worked in kitchens and grocery stores for her entire career before moving into the Program Coordinator role at Carolina Farm Trust. She loves hiking with her fiancé and two dogs, going to local breweries, and eating through the Charlotte food scene.
Jordan Weber – Director of Marketing
Jordan grew up in Orange County, California, and attend Cal State Fullerton, where she found a love for advertising, and upon graduating began working with boutique businesses on marketing strategy, branding, and leveraging social media. In working with a vast assortment of industries, an obsession with data collecting, purchasing power, social media conversion, and website strategy began to surface. With her move across the country in the summer of 2022, she set out to immerse herself in the new city she called home, and found Carolina Farm Trust to help make an impact within her new community. She currently lives in Charlotte, NC with her husband, dog, and 3 children.
Adam Ferguson – Farm Apprentice 
Adam is the first to join our Farm Apprenticeship Program and make an impact in the urban farming community. Adam's background in construction gives him the confidence to work with his hands and seek out opportunities to learn new things. He has a passion for cooking at home and one day hopes to manage a farm of his own. Adam lives in Charlotte, North Carolina with his awesome wife.