FARMING PUTS FOOD ON OUR TABLES, AND WE ALL NEED FOOD TO THRIVE.
However, farming is hard work that can be both risky and costly to farmers. Carolina Farm Trust helps farmers overcome their challenges to bring bountiful, beautiful food to our plates.
Carolina Farm Trust supports small, community farmers in a direct manner by helping them purchase equipment, lease or purchase land, and reach customers through creative marketing campaigns.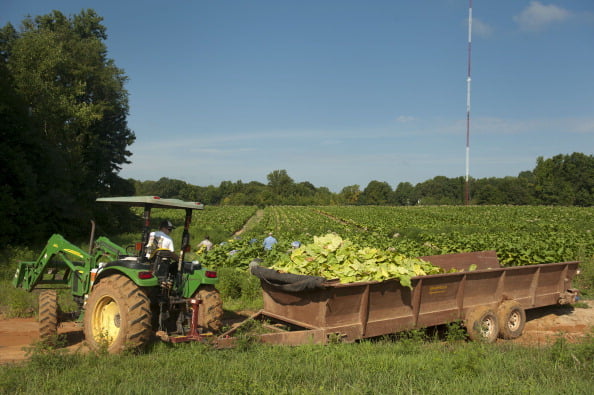 Farmer Spotlight: Meet Christina Benton – A farmer whose purpose is to improve food access
Spring brings light and hope, a much-needed sentiment after last year's gloomy anxiousness for our health and well-being of our loved ones, as well as the threatening worries of our country's economic condition. Many of us struggled as we saw, or even experienced first-hand, the already unjust structures of our […]
Partnership Announcement: The Urban Farm at Aldersgate
We are thrilled and honored to announce a new partnership at the Urban Farm at Aldersgate. Wisdom and Cherie Jzar, founders and owners of Deep Roots CPS Farm, will manage the Urban Farm at Aldersgate over the next 6 months as we develop a longer-term transition plan. Under Wisdom and […]
West End Event Will Celebrate Farms And Fun
Pack your lawn chair and head to the West End this Saturday for a day of fun and food that will help support local farmers. It's a great opportunity to meet, greet, and eat while helping to improve food access in the city's underserved areas. While development is brisk on […]
Every dollar helps us strengthen local food systems in the Carolinas, whether by supporting one of our urban farms, helping farmers get the infrastructure and equipment they need, or purchasing or leasing farm land. We stand shoulder to shoulder with farmers and our partner organizations, ensuring that the money we raise is quickly put to use. 
Let's team up to populate the landscape of the Charlotte Metro with urban farms; to grow livable, sustainable workforce opportunities in agriculture; and, to improve access to healthy, fresh food for everyone. With your help, we can 
secure a future in which entire region of the Carolinas eats food from local farms.
By fundraising for us, you extend our supporter family! Whether you raise $1 or $10,000, every amount makes a difference. Let's build a future of abundance, together.
Click the box below to register to start becoming a fundraiser for Carolina Farm Trust to help strengthen local food systems.