Urban Soul on the Farm Dinner
The Urban Soul on the Farm dinner is an iconic tradition of the Carolina Jubilee weekend where city meets country.
This unique farm-to-table dinner will serve different culinary styles so we can all celebrate the varying ethnicities of our chefs.
Each chef will introduce themselves while sharing the meaning behind the dish they have created.
Dishes will be served in courses, family-style, at communal tables, which means you get to break bread with people you may not know and have the opportunity to create deep and meaningful conversations. Drinks will be included. Cocktail hour starts at 7 pm, with dinner to follow.To enjoy a truly diverse culinary experience while supporting our mission to take back our broken food system grab your ticket today!
Date
Time
Location
Vanhoy Family Camp Ground
742 Jericho Rd, Harmony, NC 28634
Tickets are $75 a chair, or $1,000 a table (8 chairs).
Proceeds from this dinner will support Carolina Farm Trust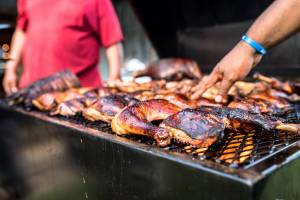 This multi-course dinner is prepared family-style
Presented By:
CHEFS
Chef Ashley Nightengale. Chef Tiore McFarland. Chef Treasure Williams. Chef Alex McQueen. Chef Brandon Pabon. Chef Gerald Hawkins Jr. Chef Gillian Howard. Chef Reyaña Radcliff. Chef Elena Lundy. Chef Taylor Worsley. Chef Jazmine Davis.
MIXOLOGISTS
Justin Hazelton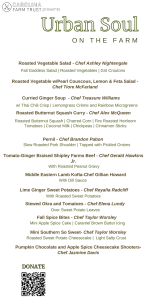 More About Carolina Farm Trust
Established in 2015, Carolina Farm Trust is an area non-profit with a mission to support small, community farmers in the Carolinas and, in return, promote the farm-to-table movement, especially in Charlotte. Through collaboration with local landowners, the organization fosters an ecosystem of sustainable farming by building the next generation of Carolina farmers, while protecting our farmland. Originating from the desire to shift the energy and money being poured into commercial agriculture policy, lobbying, and litigation to small, community farmers in a more direct manner, Carolina Farm Trust helps small rural and urban farmers with purchasing equipment, leasing or purchasing land, and in bringing their products to market.