Carolina Farm Trust Secures Seed Funding for The Urban Farm at Aldersgate 
Comments Off

on Carolina Farm Trust Secures Seed Funding for The Urban Farm at Aldersgate 
CHARLOTTE, NC, December 12, 2019: Carolina Farm Trust (CFT), a Charlotte based non-profit focused on rebuilding the regional food system from production to consumption, has received seed funding from Foundation For The Carolinas, Carver Pressley, Realtors, and other Corporate Donors for The Urban Farm at Aldersgate, located in east Charlotte.
Leased from the Aldersgate Retirement Community in April of 2018, the site will cultivate a variety of crops that meet the needs of the immediate community. Local residents will contribute, through feedback sessions with the farm, to diversified and sustainably grown produce, beginning in the spring of 2020.
"We feel the Carolina Farm Trust is an organization on the forefront of addressing food security, food access and eliminating the "class-system" of food in the Charlotte area. We are thrilled The Urban Farm at Aldersgate is coming to life," said Suzanne Pugh, CEO of the Aldersgate Retirement Community.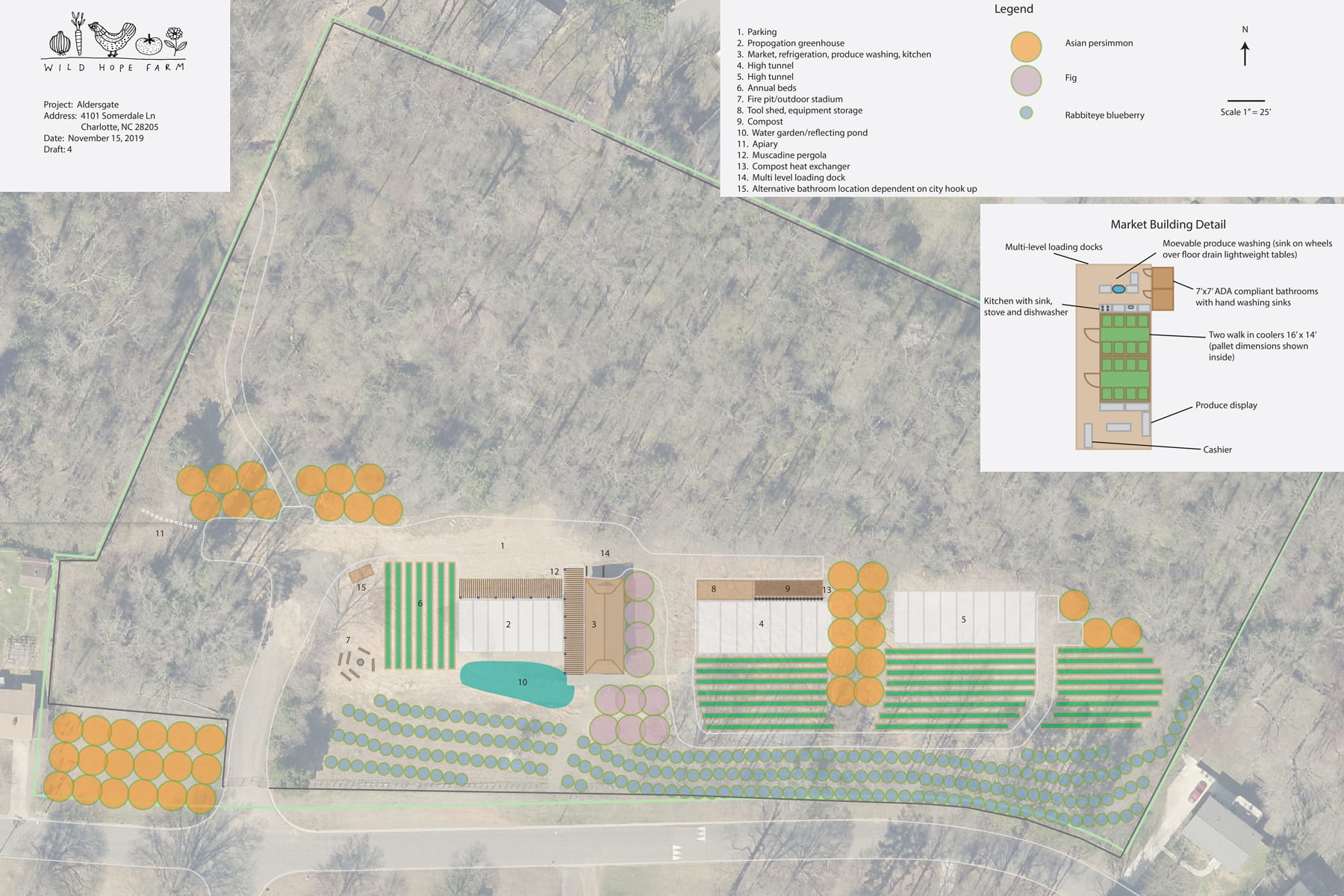 The desire of the CFT is to create a living example of upward and economic mobility by creating a career opportunity for a qualified candidate  in building a regional food network. The initial round of funding will enable CFT to activate on the first step in The Urban Farm at Aldersgate master plan by hiring and training a new farm manager.
According to Brian Collier, Executive Vice President of The Foundation of Carolinas, "We're excited to make this investment in Carolina Farm Trust because they address a number of key focus areas for the Foundation.  Certainly, food security is a major issue. But the farm will also be a place to build social capital between diverse groups, serve as a living laboratory for students, and perhaps most importantly, help develop specialized agricultural and business skills that can lead to economic mobility.  I really think the ingredients are there for something very special to emerge from that small plot of land at Aldersgate."  
Additional financial support for The Urban Farm at Aldersgate includes Carver Pressley, Realtors, as well as several anonymous corporate donors. "We are 75 percent of the way towards realizing the funding requirements for activating The Urban Farm at Aldersgate and are hopeful that additional conversations with area Charlotte businesses and leaders will allow us to begin measurable work in 2020," said Zack Wyatt, executive director and founder of CFT. "Our intent is for this site, along with the Rural Farm at Mills Grove, to be building blocks toward creating a farm network all across the city, making all of Charlotte food secure."
About Carolina Farm Trust:

Established in 2015, Carolina Farm Trust is an area non-profit with a mission to support small, community farmers in the Carolinas and, in return, promote the farm-to-table movement, especially in Charlotte. Through collaboration with local landowners, the organization fosters an ecosystem of sustainable farming by building the next generation of Carolina farmers, while protecting our farmland. Originating from the desire to shift the energy and money being poured into commercial agriculture policy, lobbying, and litigation to small, community farmers in a more direct manner, Carolina Farm Trust helps small rural and urban farmers with purchasing equipment, leasing or purchasing land, and in bringing their products to market. Visit https://carolinafarmtrust.org/.