When Zack Wyatt was laid off from his government contracting job in December 2014, he was mad — mad at himself, mad at those in his life, mad at his circumstance. But it didn't take too long before he said passion got the better of him.
At just 35-years-old years old, Wyatt is a husband, the father of five children and the founder of Carolina Farm Trust, a new nonprofit organization that aims to protect farmland, support farmers in the Carolinas and foster an ecosystem of sustainable living. As Wyatt has said, "agriculture is long-term," but as North Carolina relinquished hundreds of thousands of acres to urban and suburban development over the past few years, sustainable farming seemed pretty bleak.
Carolina Farm Trust, Wyatt told TheBlaze, is different from other nonprofits in that the organization doesn't approach local farmers and say, "We want to help you, but you've got to do it our way." Instead, the goal of Carolina Farm Trust is simple — the nonprofit purchases farmland and leases it back to local farmers with a lease that is perfectly tailored to the farmers' vision. And from there, Wyatt said, the farmer can keep the land forever.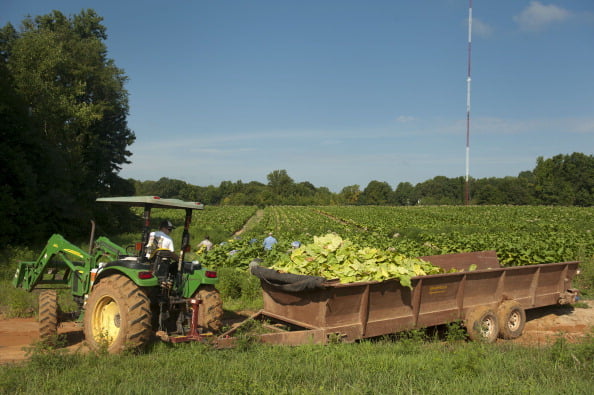 Worker Charlie Davis hauls a trailer of freshly picked flue-cured tobacco leaves during the harvest on land leased by Eaton Farms in Kernersville, North Carolina, U.S., on Wednesday, Aug. 8, 2012. Although smaller than last year, a quality U.S. tobacco crop endured a tough agricultural growing season in 2012. Photographer: Davis Turner/Bloomberg via Getty Images
"We are entering into relationships with people, and the leases will be kind of designed to be never ending as long as they're farming," Wyatt told TheBlaze in an interview. "We will have a relationship with someone and design the lease terms […]