Charlotte farmer Paul Brewington is featured in the documentary "The Farmer that Feeds Us," which highlights community efforts to eradicate food insecurity. A fundraiser will be held July 8 in Historic West End with the soul/funk band Groove 8.
How much do Charlotteans think about food?
Carolina Farm Trust is bringing a feast to Historic West End on July 8 to raise awareness and funds for food security. Party with a Purpose is a day party at Mosaic Village designed to engage the community regardless of budget. Local soul/funk band Groove 8 will perform, and local beer will be available from Three Spirits Brewery.
Later that evening, the Wadsworth Estate serves as the backdrop for a feast benefiting Brewington Farms.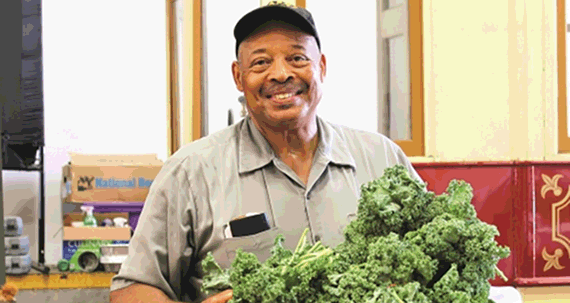 "In case one event wasn't stressful enough, we decided to do two, because I really wanted to make sure that we incorporated the whole community," Carolina Farm Trust founder and Executive Director Zack Wyatt said. "It was very difficult to try to do that in an event fundraiser type of platform. I hooked up with [Historic West End business owner] J'Tanaya Adams to secure the Mosaic Village space.
"We're going to do a day party from noon to 3 p.m. We're going to do some pulled pork, pulled chicken, and we'll have a salad and a heritage side that Chef [Njathi Wa] Kabui, who is very active in West End and the Rosa Parks Farmers Market, designed. He's going to be our main chef at night, but he kind of designed the menu for both events. Chef Kabui is from Kenya, and he lives in Apex on a farm. His family in Kenya has a farm as well. He has put together a nice African-themed menu for the dinner side."
Despite residing in the area for more than a decade, Wyatt, like many transplants, had a limited purview of Historic West End.
"Embarrassingly for me, I've been in the Charlotte area for about 14 years, and I didn't even really know that West End existed until about a year and a half, two years ago," he said. "That was shocking to me—more embarrassing than anything else. It was one of those out of sight, out of mind kind of things."
However, Wyatt's journey with Carolina Farm Trust introduced him to Reggie Singleton, executive director of The Males Place.
"We're still very young, and this is a way for us to execute our mission—even in small ways—as we progress to kind of build and get fully funded on that endeavor," Wyatt said. "I was at the city's Food Policy Council meeting [earlier this year]. That's where I met Reggie, and he definitely wanted to do a dinner in West End. He was telling me about the Rosa Parks Farmers Market. I talked to leadership there, and then met Paul Brewington."
Both events will contribute to the second episode in Carolina Farm Trust's series "The Farmer that Feeds Us," which will feature Brewington's story.
"We did our pilot with Heirloom Restaurant," Wyatt said. "Episode Two is going to feature Paul Brewington and his farm and Rosa Parks Farmers Market and Johnson C. Smith University's farm program, and kind of do a deep dive into food security and food access in West End, and kind of how all of that relates to a community as a whole. We're going to be filming both the day side and the dinner side as part of that series."
By Ashley Mahoney
Click here for full article